American Rescue Plan Act – Part 2
It's been a minute (or two) since we had information to share about the American Rescue Plan (ARP) Act and its potential impact for our region, but we're back today with an update after attending a webinar hosted by our friends at the Center for Nonprofit Excellence. We heard from Eric Burnette, senior policy advisor at Louisville Forward, Metro government's economic development agency, and he shared some useful information.
**IMPORTANT NOTE: The Request for Applications (RFA)
is now open for Permanent Supportive Housing. Read on for more details.**
Eligibility
ARP funds will be eligible for the following uses:
Public health
Economic hardship
Projects with a nexus to COVID-19 (not necessary to have a direct link to COVID-19, but your project could qualify if you make a case that COVID-19 exacerbated an existing problem)
If the Biden administration's infrastructure package doesn't pass, more of the ARP funding will be allocated to the types of projects proposed within that package.
In qualified census tracts (see map below), there's a presumed impact from COVID-19. (Look up your census tract.)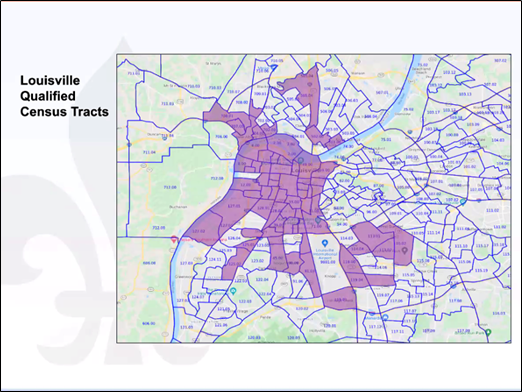 Ineligible categories/projects:
General infrastructure, though some construction-related projects may be acceptable if they do not create unsustainable expenses and have a COVID-19 nexus
Others will be outlined in the RFAs and on the Center for Nonprofit Excellence's website.
Priority areas
Urgent priorities are already funded, including public health, eviction prevention, utility assistance, rental assistance, food distribution, childcare center emergency and safety supplies, suicide prevention, and substance use disorder (SUD) assistance.
Additional input for priority areas was collected over the summer. While these were not ranked in order of importance, we heard that a significant chunk will likely go toward housing:
Homelessness and affordable housing (RFA opened 9/30/21 – see "Permanent Supportive Housing")
Workforce development
Healthy Louisville/healthy neighborhoods (the arts fall into this category)
Public safety
Premium pay bonuses to essential workers
Public health contingencies
Eligible infrastructure: Note that Louisville Metro has about $2 billion in deferred maintenance.
Each category is assigned a working group of about five people, responsible for issuing individual Requests for Application (RFAs). We're hoping to learn who's a member of each group, and we'll be sure to update this post if/when that information becomes available.
Requests for Applications (RFAs)
RFAs will come through Bonfire, and each application will be evaluated on the following criteria:
Expected outcomes and impact
Feasibility and probability of success
Time needed to achieve results
Funding requirements and sustainability
Leverage and partnerships
Financial risk assessment/ability to meet federal reporting requirements: capacity to repay money and meet reporting requirements
Equity
Additionally:
Grant funding will be distributed over three years.
Collaborative projects will have an advantage in the evaluation process.
Final funding recommendations will be approved by Metro Council, and Louisville Metro will provide technical assistance to grantees to assist with reporting and compliance.
What's next?
The Permanent Supportive Housing RFA is available now, and another update meeting is said to be taking place in a few weeks. We'll share information as soon as it's available. In the meantime, we'd love to hear your thoughts on how the ARP funds could be used to help your organization make a deeper impact in our community. Our team of seasoned experts at Ashley|Rountree can partner with you to facilitate important strategy conversations and lead grant writing involved with the RFA. We can make this easier for you, your organization, and ultimately, the people you serve.
Need to talk it out? Contact Krista Drescher-Burke, leader of our grants division, or call (502) 244-5835 to start preparing for this opportunity.
If you have specific questions for city officials about the ARP funds, you can email accelerator@louisvilleky.gov.
Helpful resources
Louisville Metro Plan and Input – Learn more about the initial tranche of funding and input sessions
Kentucky League of Cities – General information on Kentucky's allocation of ARP funds
National Council of Nonprofits – Principles, Recommendations and Models for Investing Recovery Funds